Kate from Coquette and Dove is sharing her Christmas favorites today! Her blog is full of all sorts fun girliness- everything from fashion to make up to inspiring interiors. She's also got a lovely stationary line- make sure you check both out!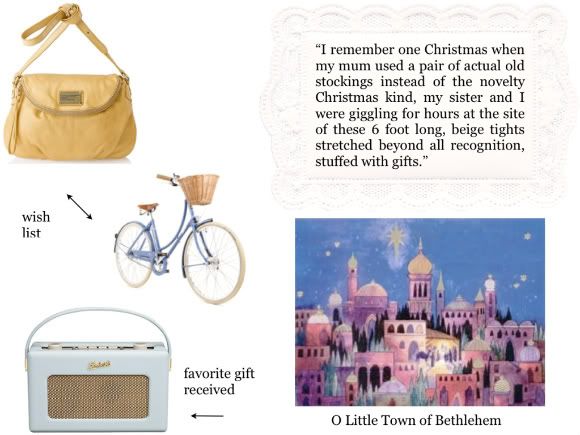 What is your favorite Christmas memory?
-I tend to find that Christmas memories all start to blur into one big Christmas jumble. I remember one Christmas when my mum used a pair of actual old stockings instead of the novelty Christmas kind. My sister and I were giggling for hours at the site of these 6 foot long beige tights, stretched beyond all recognition, stuffed with gifts. And when we were young enough, our mum would make us advent calendars, with each gift wrapped in brightly coloured tissue paper, tied with brown string to a long tree branch and numbered with a gold pen. They would hang across the window of our bedroom and we'd go to sleep each night staring at the next morning's gift, trying to guess what it was.
What are you hoping to get for Christmas this year?
-This year my Christmas list is short and sweet, in fact the only thing on it is Amazon gift vouchers- I really need a new television! I think I may donate my current one to a museum when it's time is up, it's that old. Other than that, I've got my fingers crossed for some homemade goodies from my mum, and perhaps some Miller Harris or Diptyque candles. I'm pretty easy to please! Of course if I were writing a "Dream Christmas List" it would include a pastel blue Pashley bike, a new MacBook Pro, a basket of Yon Ka goodies maybe a little number from Marc by Marc Jacobs. And let's not forget pretty much anything for my home from Anthropologie!
What is your favorite gift to give?
-Christmas in our family has always been about time spent together over good food rather than gifts, and we've always erred on the side of modesty when it comes to gift giving. Not necessarily something you appreciate as a kid when your friends all get the latest Barbie Dream House and you don't, but as an adult it's one of the things I love about Christmas. My favourite gift to give is something that I know the recipient would love, but would never think to treat themselves to. This year I'll be treating my stepdad to some gourmet pork pies from
Lardy Da
, bringing home some
Junipero Gin
from California for the man in my life, and for my sister and her husband, the modern art enthusiasts, a limited edition print or one of my own collage pieces.
What is your favorite gift you've ever received?
-Hmmmmmmm, that's a tricky question! I think any gift that shows the person has really thought about you, and what you're all about, is always a joy to receive. One of my past favourites is a pastel blue
Roberts Radio
that my dad gave me a few years ago. I listen to it every morning while I'm having my breakfast, and since my dad has about 5 or 6 Robert's radios (all 50s originals
) that he listens to on his boat or in his garden, it's like a little reminder of him each morning.
What is your favorite Christmas carol?
-I LOVE singing in church or at carol concerts. I'll be the mum embarrassing her kids in years to come as I sing at the top of my voice without a care in the world! As a child my favourite was O' Little Town of Bethlehem and you can't beat a rousing rendition of Good King Wenceslas. As far as Christmas songs go, it has to be Bing Crosby, and Christmas in Killearny is my all time favourite.
What is your favorite Christmas tradition?
-When our family was a little less complicated than it is now, my sisters and I would go to midnight mass at our local church on Christmas eve, excited that we got to see in Christmas day in the middle of the night, all wrapped up in sweaters and coats. The next morning, we'd all pile onto our parents bed to open our stockings, before my sister Alice and I would head down stairs to whip up Eggs Benedict for everyone for breakfast. Now that marriages, and continents have come between us all, Christmas is very different, but I still try and squeeze some Hollandaise sauce into my Christmas morning!! And I always think of my sisters while I'm enjoying it.