Danica from
Oh, Hello There
is a girl after my own heart- full of Christmas spirit and cheer. Find out more below.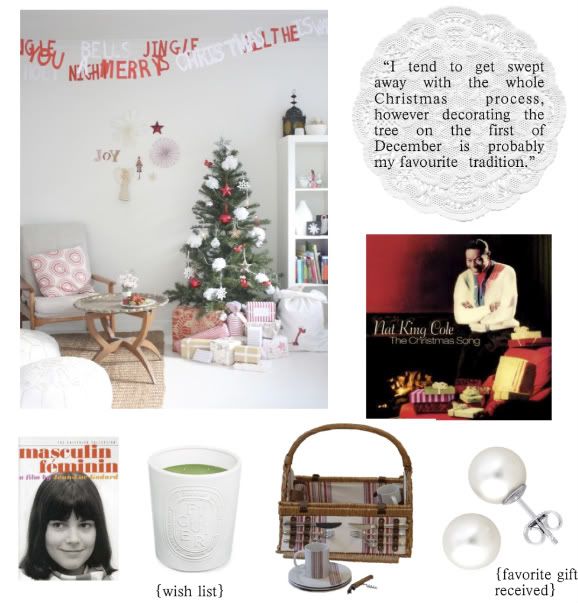 christmas tree, nat king cole, dvd, candle, picnic hamper, pear earrings
What is your favorite Christmas tradition?
-I tend to get swept away with the whole Christmas process, however decorating the tree on the first of December is probably my favourite tradition. It sets the tone for the holiday season.
What is your favorite Christmas carol?
-I'm not a huge fan of Christmas carols, but I do love Nat King Cole's rendition of "The Christmas Song." His Christmas album is always on repeat on Christmas Day in my house.
What are you hoping to get for Christmas this year?
-I would love to receive a beautiful picnic basket. Failing that a Diptyque candle or some Criterion Collection DVD's would also go down a treat.
What is your favorite gift you've ever received?
-A pair of pearl stud earrings that my mother gave me a few years back. I wear them almost everyday.
What is your favorite gift to give?
-I am rather partial to giving books. I like that they can be made personal by writing a small note and that they can be kept and treasured by the recipient.
What is your favorite Christmas memory?
-My fondest memories are of Christmas time speint in Hong Kong. Unlike Australia, where it is usually extremely hot, Hong Kong is pleasantly cold and the whole city really falls under the Christmas spell. I miss it terribly.