Hooray for Alli and her lovely blog- Hooray! It was one of the first blogs I ever laid eyes on and it's been a favorite of mine ever since. Here's Alli's 12 Days of Christmas.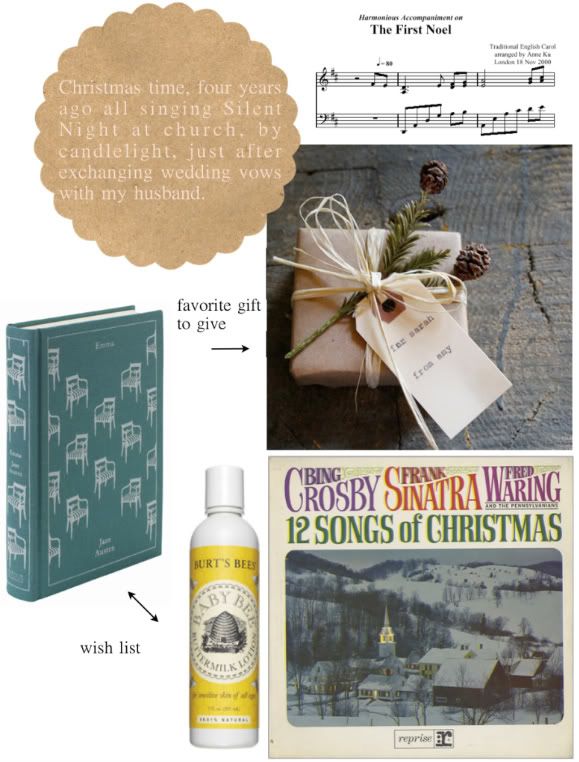 the first noel, packaging, book, lotion, record
What is your favorite Christmas memory?
-

Christmastime four years ago, all singing Silent Night at church by candlelight just after exchanging wedding vows with my husband.
What is your favorite Christmas carol?
-The First Noel, O Holy Night, Ave Maria...I'm that person who breaks out the music mid-November.
What is your favorite gift to give?
-Homemade treats! Packaging them up is the best part.
What are you hoping to get for Christmas this year?
-Cloth bound Penguin Classics and some of Burt's Bees softest lotion.
What is your favorite Christmas tradition?
-Exchanging gifts on Christmas eve. My parents' tree is lit up, we play old records, and all gather around and eat sweets. Then on Christmas day we focus on the new born King.
What is your favorite gift you've ever received?
-My personal cd player that I got as a kid - it provided endless hours of music on car trips, during homework nights, etc growing up, and they're still nostalgic to me.
Thanks to Alli for sharing! Tomorrow- Caroline from Greedy Girl!